By now, it is common knowledge that
Windows 7
has been successfully been able to live up to the hype of being touted as Microsoft's most anticipated O.S. ever.
This latest 2010 Windows release builds up on its predecessor's positives, adding new functionality and all in a package which is resource efficient and more useful at the same time.
After installing Windows 7 for the first time, other than the obvious cosmetic changes, I noticed that many features we took for granted in Windows XP and other flavors of MS Windows, had either been upgraded, improved or hidden and some were outright retired!
A well-known example (or rather annoyance) of this is the removal of the standard network icon in the task bar area (below image highlights the presence of the same in Windows XP).

We have been used to this instant activity monitor since the pre-Windows 98 era and it is missed quite a lot!
Some people may find it nagging to watch the activity every now and then, but it actually gives you an instant idea of usage when you can see your system's possible activity on the network (expected or un-expected).
After googling a bit I found some tools as a substitute for the missing network icon. One of these which actually stands out is LanLights.
In the words of the author "LanLight was written to replace the missing LAN activity lights for Windows 95/98 after upgrading to DSL or Cable with even more functionality".
To top it all, this is a total freeware application.
The application can be used to do the usual and is also usable for advanced options like –
- Track throughput on each of your network interfaces;
- Compute and view Max or average send /receive speeds;
- Get total bytes sent information;
- View real time bandwidth usage Graphs;
- Use utilities like Trace Route, Ping etc.
For further details refer -
http://www.paulmather.net/lanlight.asp
Although the application was initially made for Windows 98/XP, it has been upgraded for the Windows 7 O.S. (both 32 and 64 Bit versions). The program is easy to install and use (both on post XP and earlier versions of Windows).
The LanLights can be downloaded from here -
http://www.paulmather.net/lanlights/setup/quicksetup.exe
Note: The site lists the latest version as LanLights v1.1.15 (Released August 1st, 2009) but for best performance you need to upgrade the version to v1.1.16 by doing the following steps –
1. Double click the LanLights icon in the taskbar;
2. Click Help -> Check for update;
3. Update to the latest version (which currently is v1.1.16).
4. The application will install the update and is restarted automatically;
The above update will also take care of a stack overflow error which can happen if you are running Windows 7 O.S., 64 Bit with > 6GB of RAM.
After installation, you are presented with the following interface –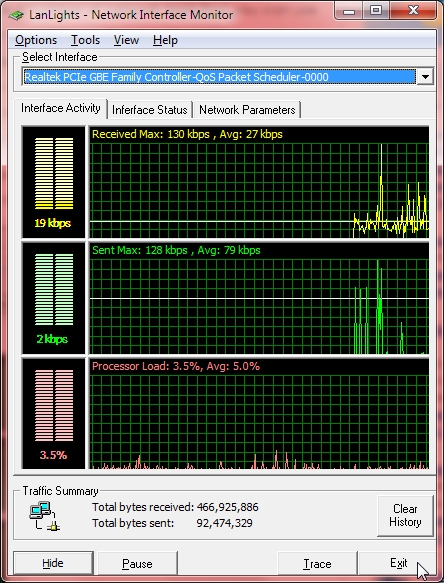 This application is best utilized when it is set to start at Windows startup. To do this - Double click task-bar icon - choose Options – "Run on Windows Start" and also choose "Hide when minimized".
You can even customize the icons look and feel (Options – Change status icons). The application's activity icons are neatly presented in the task bar as shown –

That's it! You can explore other advanced features of the application at your own leisure! This is one application which serves the purpose well!