Many loved their Windows Phone for its superior design. That included the contemporary ringtones. Now, having an iPhone, you are kicked back at square one with a dull variety of ringtones of yesterday. Rejoy, here is how to retrieve the superior Windows Phone ringtones and bring them to your iPhone.
The history
Windows Phone and the Metro Design (now renamed Modern Design) was a milestone in computer history and, indeed, in the design of the user interface. Once and for all the terrible skeuomorphism, which Apple had driven to a ridiculous extreme, was killed and buried, replaced by a modern design language which, since then, has influenced not only the whole computer business but also artwork in general, inspired from the design of web pages.
What was not talked about that much, was the audio which, for mobile phones, plays an important role as the ring and alert tones. Traditionally, these were just more or less "weird" arcade-style sounds and small tunes, easy to distinguish from each other and well suited for paying attention.
The Windows Phone Design Team changed (also) this, and brought in professional composers and musicians to create a series of tones and tunes that sounded as electronic music of today while still respecting the main challenge of a ringtone:



to gain attention without, when played over and over again, driving the phone user insane
This was fulfilled. Realising, that not all users might love the design, the selection of preinstalled ringtones also counted some of the old types of ringtones; those you may wish to leave in the dark, and that's what we will do.
Don't leave diamonds behind you
Now, when Microsoft has abandoned Windows Phone (Windows 10 Mobile), most users are forced to change to Android or iPhone, as the models running Windows 10 Mobile are few and quite expensive. Also, nearly zero new apps are offered for Windows Phone, diminishing these phones' usefulness as smartphones except for very special purposes.
For many, the iPhone is the natural alternative, as the supplier (Apple) maintains and develop these much the same way as Microsoft did with a single line of OS versions and consistent updates.
Apart from your Outlook contacts, not much can be carried over from your Windows Phone to an iPhone. However, the ringtones can, so there is no reason to leave these gems behind.
The ringtones
There is no single official place to download the ringtones. The only official source, I can locate, is at SoundCloud where the Microsoft Design Team has uploaded many tones including most of the ancient Nokia tunes. Those of the Nokia Lumia 1520, which are quite representative for the newer models, I've found at the Windows Central Forum where the poster has retrieved them from a Polish source where you only can download via a Facebook login which I don't have. If you search for "lumia ringtones.zip", you'll find a lot, most duplicates though.
The true originals, those of Windows Phone 7, I've found at XDA Developers. Finally, the collection for Nokia Lumia 950 and Windows 10 Mobile can be found at RightLaptop.
All of the source files are attached at the bottom of the article.
Ringtone selection
For the purpose of both mine and your iPhone, I have carefully selected those sounds and alerts that are unique to the Windows Phone in an Essential Collection. This includes the variations of the default Windows Phone sound and the beautiful bell and synth type simple tunes, often in a slightly spacy mix.
Those ignored, are the dupes, of course, and the boring blip-blop alerts and sounds, as well as those mimicking small tunes/songs, as these, can be found by the thousand elsewhere.
The Essential Collection is attached at the bottom of the article, ready to be transferred to your iPhone.
Preparing the ringtones
The required file extension for a ringtone file for the iPhone is .m4r. This extension you may not have met before, but it is nothing more than a renamed .m4a audio file. The .m4r extension tells the iPhone, that this is an m4a file intended to be listed not as music, but as a ringtone.
However, none of our source files are in this format, but in wma, wav, or mp3 format. Thus, I decided to go this route:
Convert all the source wma and wav files to mp3
Add mp3 tags to the files: Title and Volume
Select from the sources and collect (and rename where needed) for the Essential collection
Convert the Essential collection to m4a format
Copy and rename the m4a files to m4r files
Adding a Volume tag is quite useful because with this you can see the origin of any file in the Essential collection.
Adding a Title tag is important because, on the iPhone, this takes precedence over the filename on the displayed list of ringtones. For example, is the filename superring.m4r and the title tag is Super Ring, the ringtone will be listed as Super Ring.
Further, a few of the Ring00 filenames of Windows Phone 7 have later been shuffled, so it is necessary to rename those of Windows 10 Mobile, that conflicts.
To make it transparent, I renamed (and retagged with Title) all the Windows Phone 7 files named Ring00 to Ring0700, and those of Windows 10 Mobile to Ring1000. This means that, also on the iPhone, the 7-files will be listed before the 10-files.
The conversion process is trivial and outside the scope of this article. Dozens of methods to perform this are available and much up to personal preferences. I use these excellent tools: Streaming Audio Recorder and Mp3tag. Just make sure, you follow a route similar to that listed above and end up with a folder of files you wish to transfer.
If you don't want to bother with converting and selection at all and have no special needs, a single file holding the Essential Collection in m4r format can be found at the bottom under Core files.
Transferring the ringtones
At this point, you have a folder with your selected ringtones as m4r files. But - if you are like me - you have no idea how to bring them to the iPhone. You can't just hook up iPhone via USB to your Windows machine; it takes dedicated software. After a little searching, I decided on this free tool: EaseUS MobiMover Free.
Though probably intuitive for a long-term user with a broader usage of the application, I had to fiddle around with it until success. To spare you that time, here are the screenshots to follow after the install which should cause no problems.
First, connect and turn on your iPhone: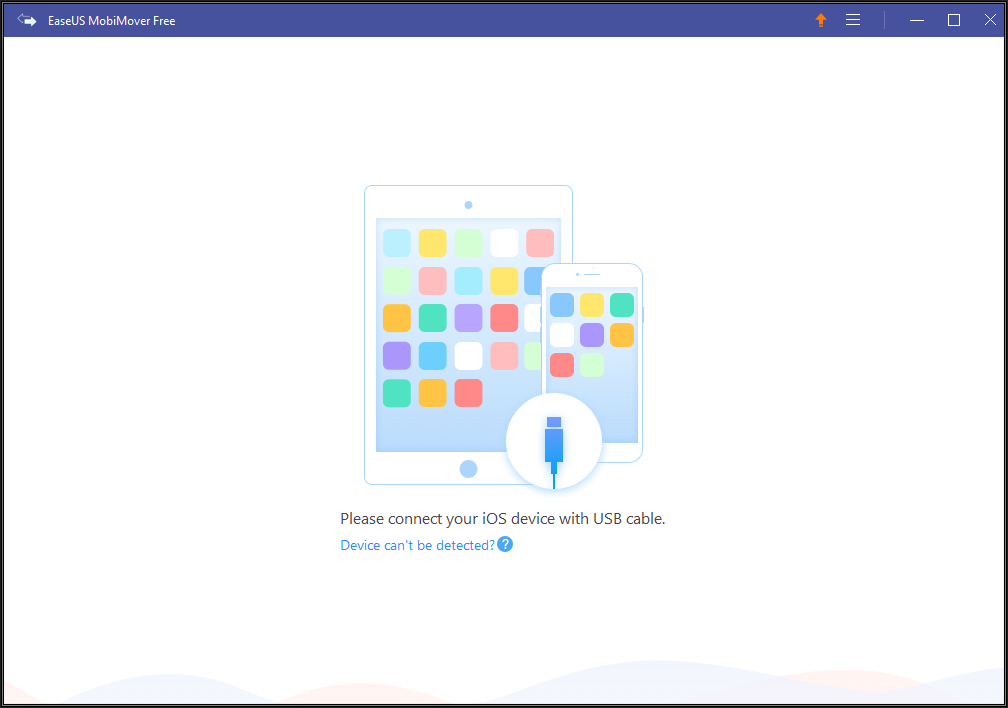 When connected, you'll see this window. Click in the top bar on iPhone: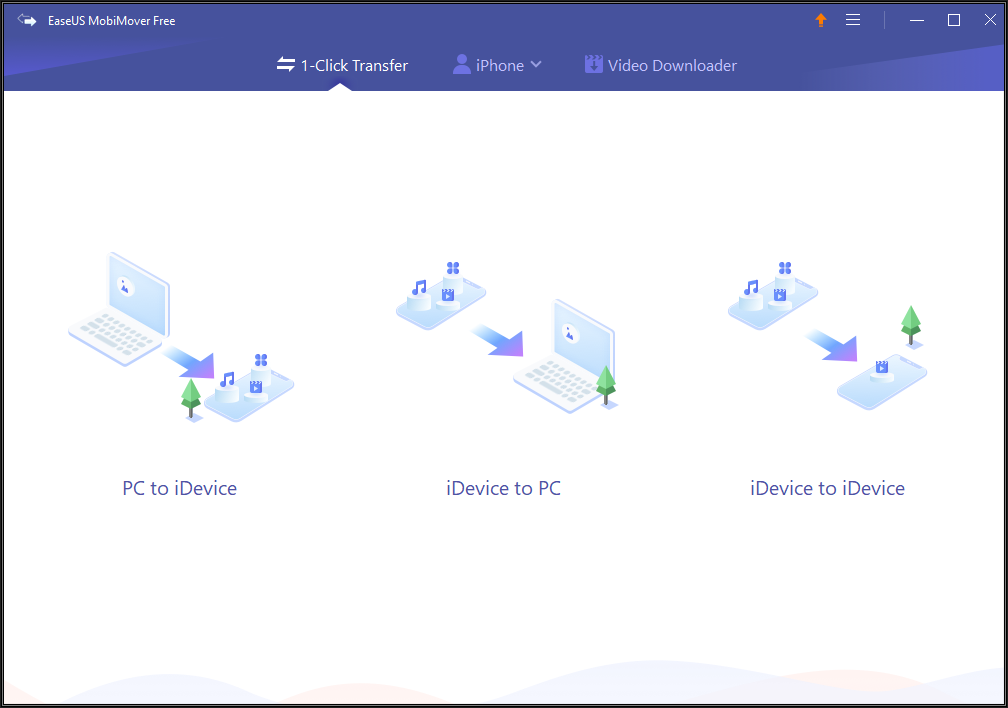 Now, click in the left tile, Audio: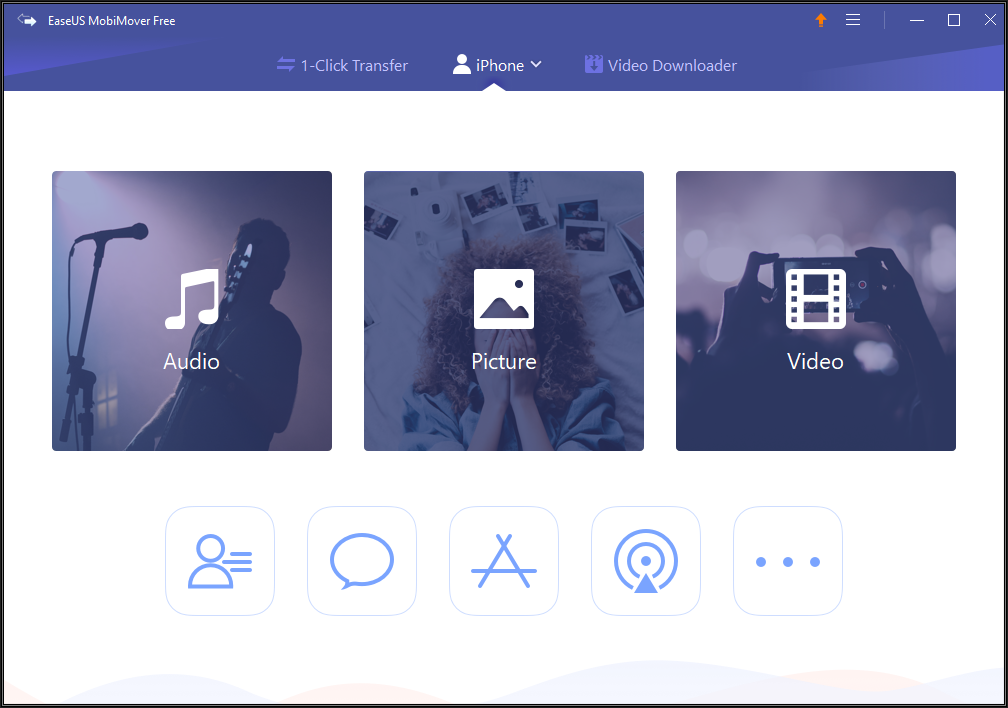 and then click the sub-tile, Ringtones: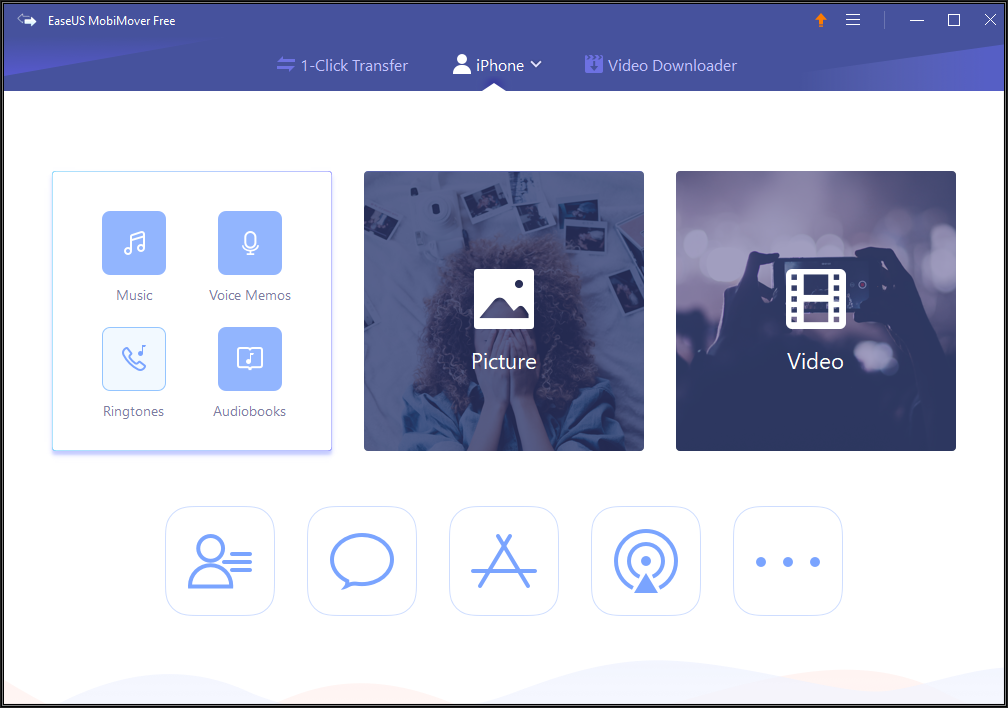 Now, click on the phone icon containing a down-arrow and the popup "Transfer to This Device":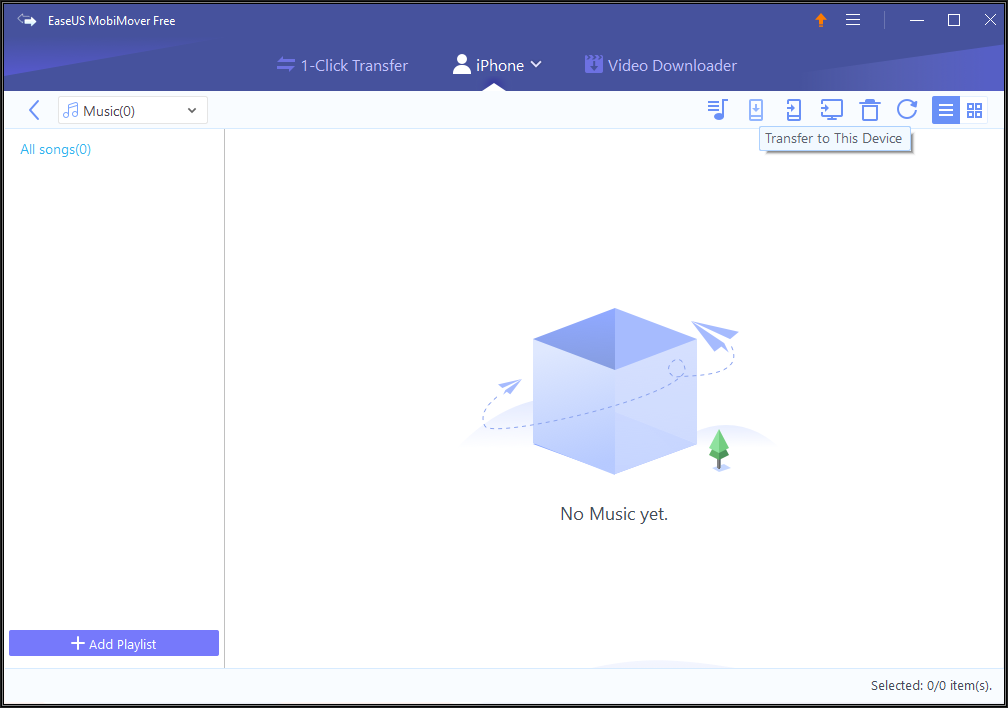 This will open Windows Explorer.
Browse to the folder with your m4r files, mark them all (Ctrl+A), and click Open: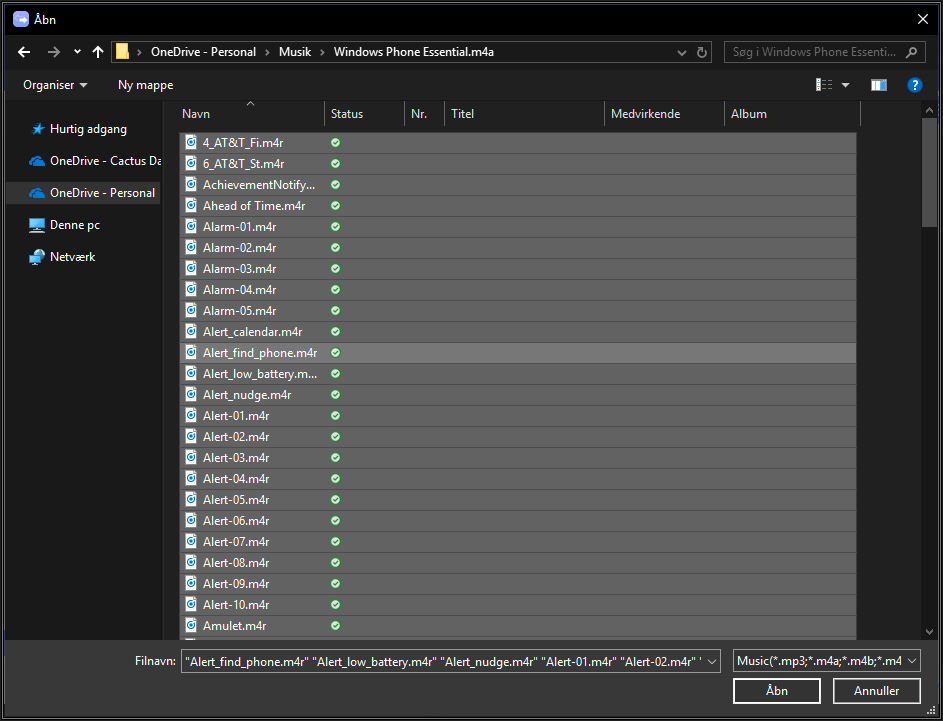 The transfer will begin at once and, after a little while, the files appear listed in some random order.
Click on the Name header label, and the list should order to view like this: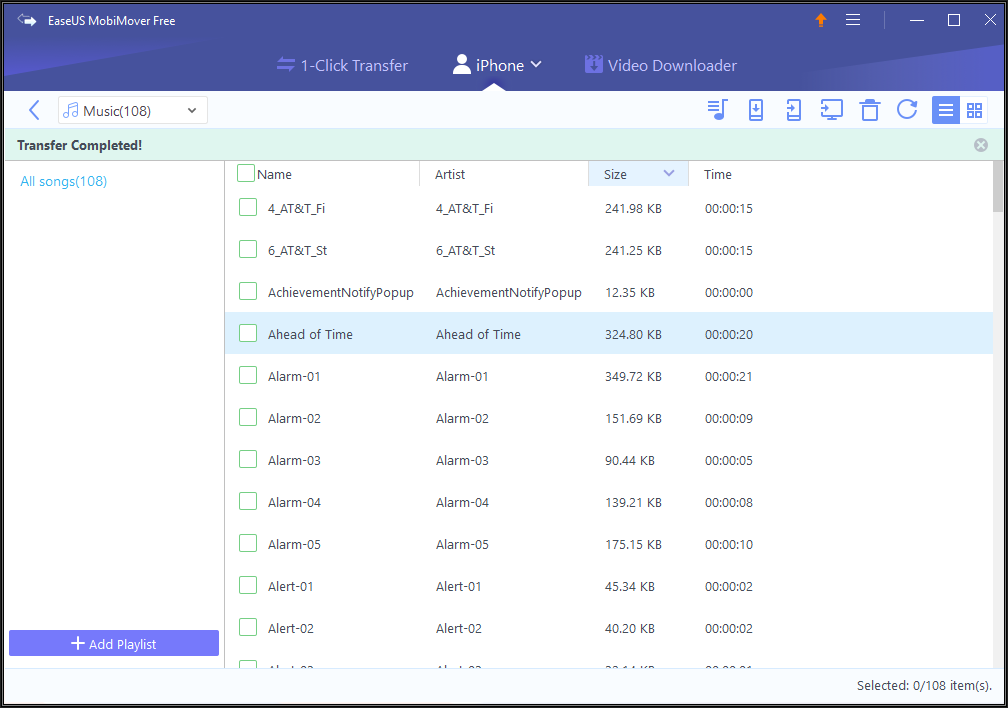 That's it. Go to the iPhone and browse to the settings for Ringtone, and your well-known ringtones will be listed at the top: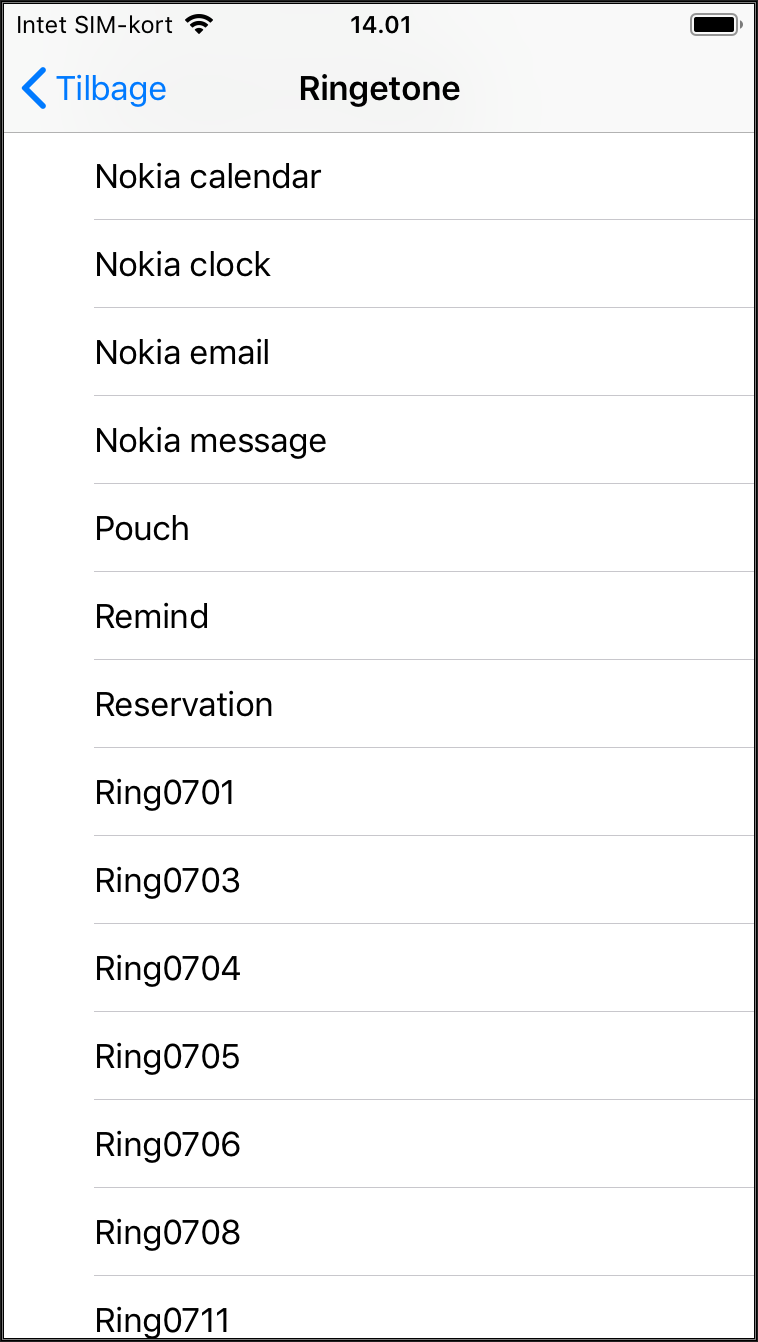 Now, select the ringtone you prefer, feel at home, and relax.
Ring it on
It is so sad, that Microsoft left Windows Phone/Mobile on the beach for the wind and sand to make it vanish. Here I have shown, step by step, how we with little efforts can, if not take the torch, then at least bring the sound of this forward and, if selected, free your surroundings from the terrible default iPhone ringing - and enjoy those of your friends having a musical taste.
Files
Core files
Only the ready-to-upload m4r files from Essential Collection.
Windows Phone Essential.m4r.zip
Essential Collection
mp3, m4a, and m4r files.
Source files
Original and converted files, and selected files converted to mp3 and tagged.
Windows Phone 7 Essential.wav.zip
Windows Phone 7 Essential.mp3.zip
I hope you found this article useful. You are encouraged to ask questions, report any bugs or make any other comments about it below.
Note: If you need further "Support" about this topic, please consider using the Ask a Question feature of Experts Exchange. I monitor questions asked and would be pleased to provide any additional support required in questions asked in this manner, along with other EE experts.
Please do not forget to press the "Thumbs Up" button if you think this article was helpful and valuable for EE members.