Start.Me - An excellent Free and very useful Bookmarks Manager

IT Professional - Helping others to help themselves. https://andrewleniart.com & https://www.computerhelpzone.com.au/testimonial/
Published:
This article is about an excellent bookmarks manager I've been using that I thought deserved some promotion to make more folks aware of its existence. Free to use and very useful indeed. Enjoy...
Introduction

With the recent demise of my all-time favourite Bookmark Manager Xmarks owned by LogMeIn that I'd enjoyed for many years, I found myself on a frustrating hunt for an alternative that had the same synchronization functionality as Xmarks afforded, but my extensive searching resulted with only very limited success.
Despite trying and subscribing to paid subscriptions of many alternate solutions that promised the same cross-platform and browser support, not one of them passed muster to satisfy my own needs.
Then I discovered Start.Me - a solution which ticked all of my requirements and more. Indeed, I liked it so much that I soon subscribed (at a very reasonable cost) in order to utilize some of its optional and additional features that aren't available in the totally free version.
Introducing Start.Me - A forever FREE Bookmarking Solution!
Start.Me provides you with a web page that you can configure in a number of ways and that works with ALL browsers and computer operating systems. Not only is it highly configurable to suit individual preferences and needs, but it also provides synchronization across all of your browsers with zero effort on your part.
I would even go so far as saying that it's an even better solution than Xmarks was.
No installation of any software to your computer is needed. Simply create an account for yourself on the Start.Me website, import your browser's bookmarks into it and you're set to go. It's that quick and easy to get started with it.
Here's a snapshot of the initial screen of my Start.Me account page, (that I've set as my Home Page in all of my browsers) as well as a sample of what my Imported Bookmarks page looked like after I imported my Browser's bookmarks and favorites into it.
My Start.Me Home Page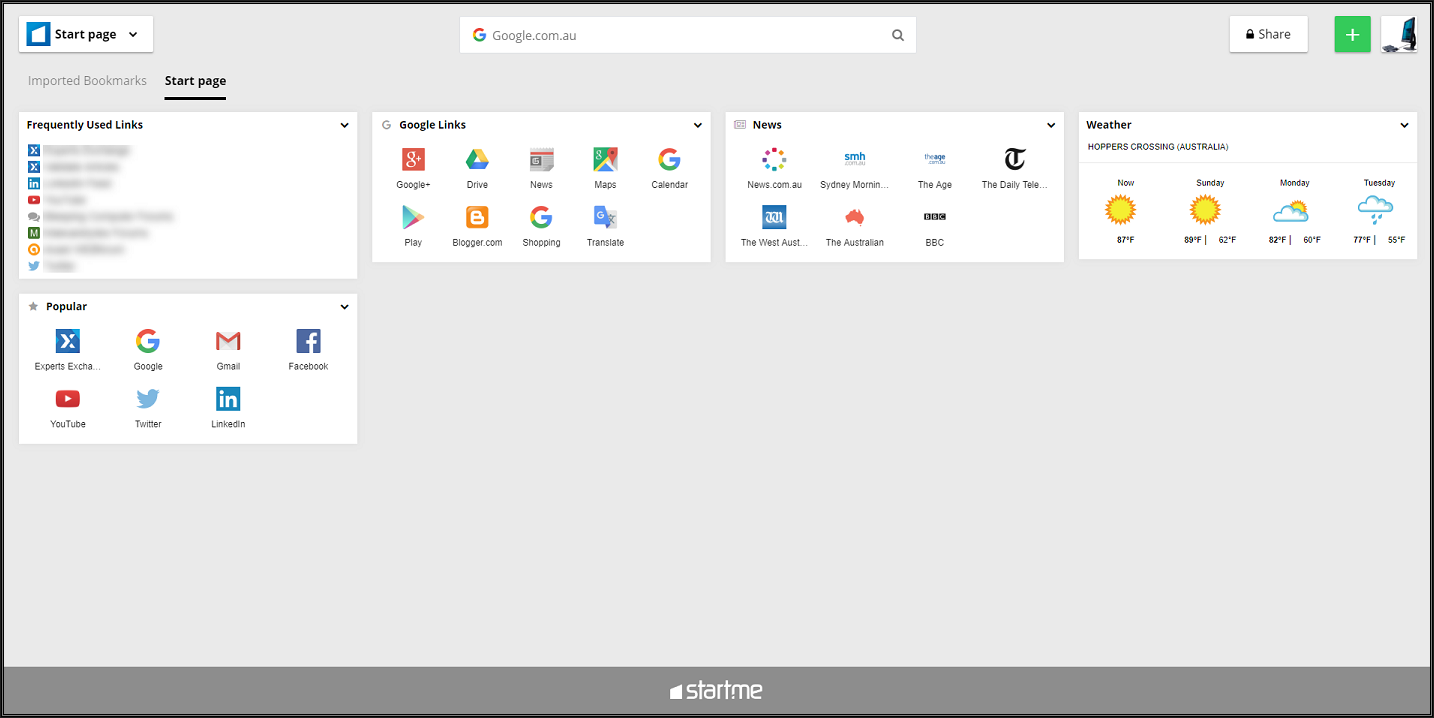 My Start.Me "Imported Bookmarks" Page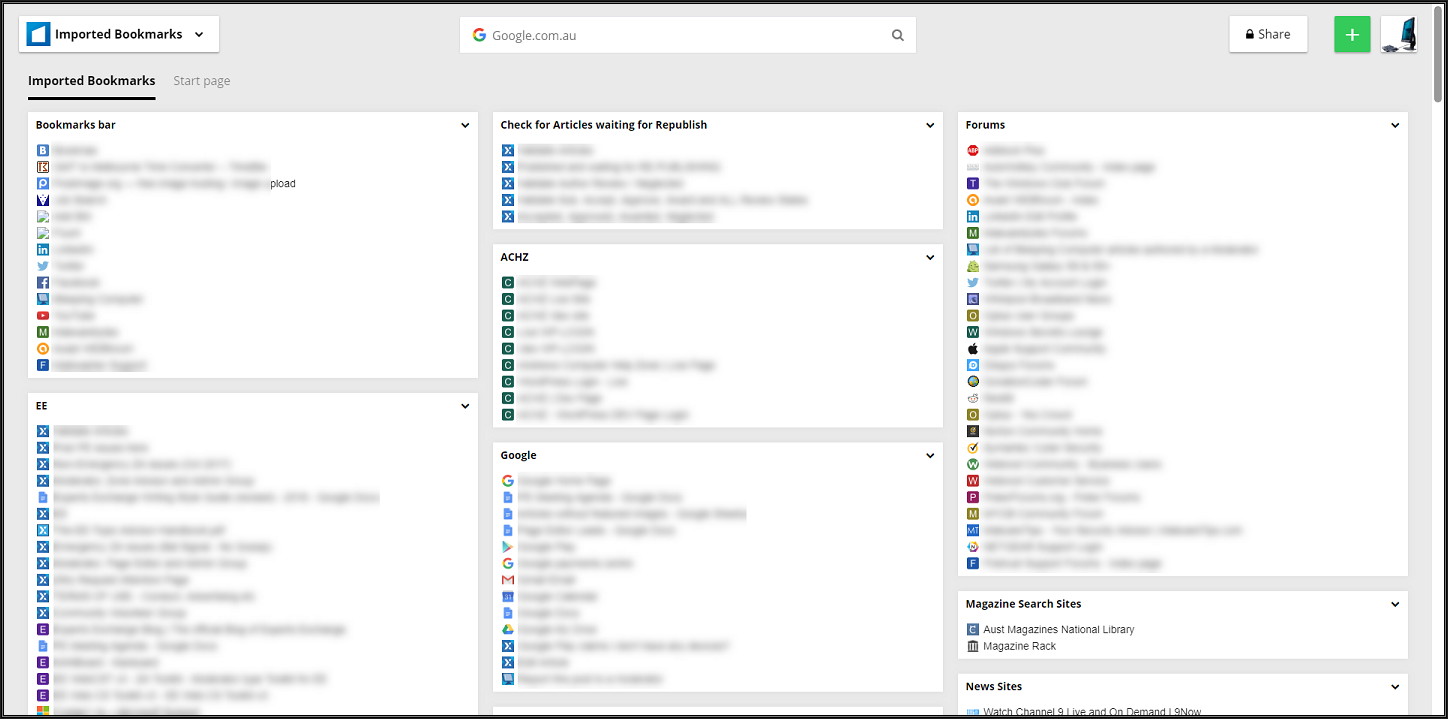 Clicking on any link opens the selected bookmark in a new tab, though that's configurable to open in the same tab as well if that's what you prefer it to do. Other benefits include being able to share your bookmarks with others or make them public.
Here's a couple of screenshots of default and basic preference settings that you can configure to suit yourself.
Those are just basic preferences immediately available to you. There's lots more to explore and discover. For instance, you don't need to settle on what you might consider being a boring grey background on your Start.Me pages as I've elected to do. You can put a different color or even a nice backdrop of your choice if you want to. Customizability of Start.Me is one of its biggest strengths.
There's also a list of pre-prepared Widgets you can use to improve your experience - or if you're programmatically inclined, write and use widgets of your own creation. Or even incorporate widgets from sites like Facebook to your page if you want to. There's a ton of possibilities to make Start.Me pages your own.
Adding Bookmarks to your Start.Me pages
Adding new bookmarks to your Start.Me pages and categories is simplicity itself.
One of the easiest ways is to add the basic "Add to Start.Me" widget to the bookmarks bar of your browsers. When you see a page you want to save to your bookmarks, just click it and the following pops up: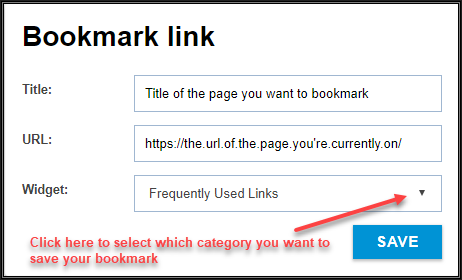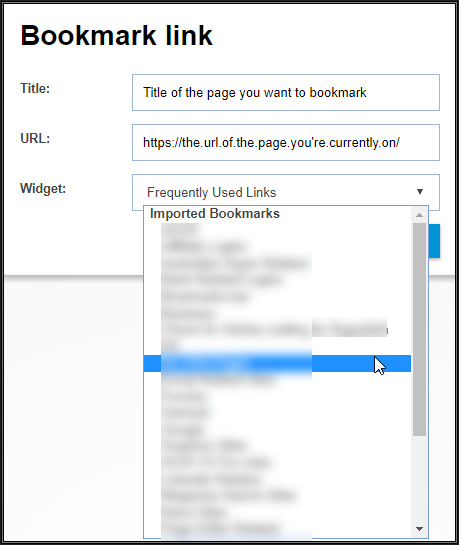 You can also easily add any bookmarks manually you want to as well, and of course, all saved bookmarks can be edited and changed at any time very easily.
Concluding
In this article, I've only touched on some of the most basic and useful features provided by Start.Me. It's difficult to do justice to how useful this free service can be with just a short article and review, so create a free account for yourself and give it a test run. You can't beat the price and you may end up finding it as useful as I did.
I hope you get as much value out of using this site as I have.
What's your favorite Bookmarks Organizer? Please share your own preferences in the comments section below this article.
Finally, If you think this article will be helpful to others, please do click the Thumbs Up icon to the bottom left of this text. It helps me out and lets me know the direction I should take for future articles that I write. Thanks very much.
Regards, Andrew Leniart