Over the past few months, many folks seem to be having a variety of Outlook problems. This article contains troubleshooting and repair steps that will often solve the various issues people have been encountering. Step-by-Step instructions and illustrations included.
Introduction
Whether it's a result of recent Microsoft Windows or Office Updates, or just something suddenly gone wrong with Email,
over past months
I've found myself encountering the same problems and repeating the same suggestions to folks that, more often than not, cured the problem they were having.
This detailed guide to troubleshooting and repairing Outlook issues could help you quickly resolve a problem you're having. All of the steps are perfectly safe, and very little technical knowledge is required.
I'll soon be creating similar guides to cover Microsoft Word and Excel. Look for links to those guides in the Comments section below this article.
A (non-exhaustive) quick list of issues that the steps in this article could help resolve include:
Outlook refuses to open.
Outlook has suddenly become problematic or starts behaving erratically in some way.
Outlook raises errors when trying to synchronise with an IMAP or Exchange server.
A corruption has developed in Outlook's PST or OST data files.
Many more scenarios...
On with the show...
Note
: If your problem is that Outlook will not open at all, skip down to Step 3.
Step 1 - Determine if you have Office 32-bit or 64-bit installed
It's easy to do and will be useful information to know for later. In Outlook, it's done as follows:
Click File > Office Account > About Outlook

The top of the window that pops up will tell you if you are running a 32-bit or 64-bit installation of Microsoft Office.

.
.
Step 2 - Check if Outlook Add-ins are a cause of your problem
Many problems often encountered with Outlook are caused by either new Add-ins or an Add-in you've been running having gone corrupt or rogue for some reason. The easiest way to eliminate Add-ins as the cause of your problem is to start Outlook in Safe Mode and see if the error persists.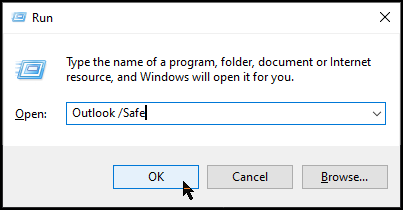 .
Outlook will open in Safe mode, where all Add-ins are disabled by default. Determine if your problem is still occurring.
If the problem is still there, skip down to Step 3 now
If Outlook now performs without error, then a troublesome Add-in could be a likely cause or contributing factor.
Fix that using the following steps.
Find the problematic Add-in
Close the Safe mode Outlook you just started, and re-open Outlook in normal (not Safe) mode. Click
File
>
Options
>
Add-ins
>
Manage COM Add-ins
and click on the
G
o...
button.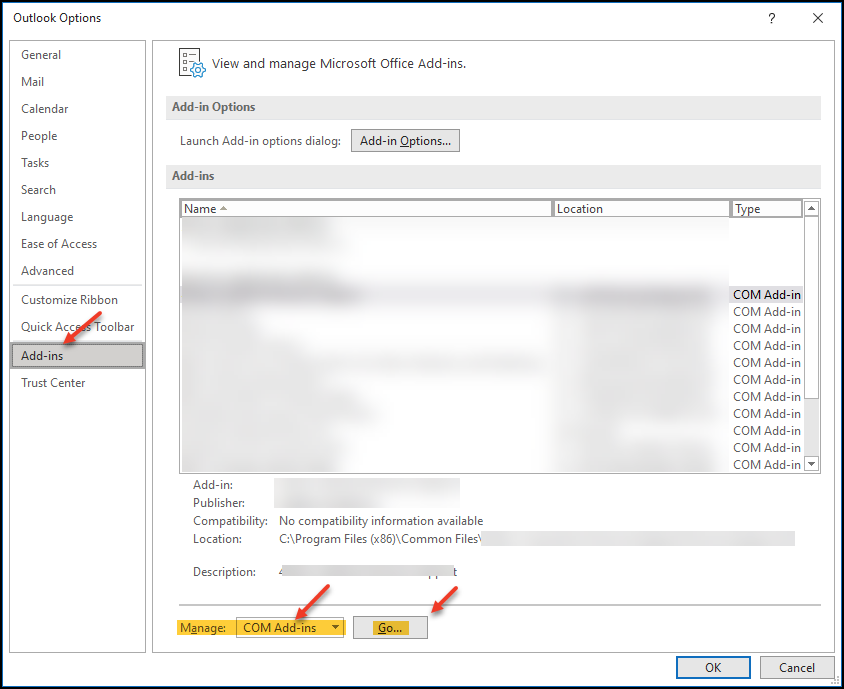 In the next window that opens, note which Add-ins are enabled (have a check mark), and temporarily prevent them from loading by unchecking them.
Close Outlook, re-open it, and see if the problem has been resolved or not with all Add-ins disabled while running in normal mode.
If the problem has been resolved, then your issue is definitely caused by one or more Add-ins, so we will continue with some basic trial and error steps to identify which one (or more) is causing the problem
.
Note:
If the problem does recur in normal mode with all Add-ins disabled, leave them disabled for now and skip down to Step 3 below
.
Return to the
Manage COM Add-Ins
window as shown earlier and re-enable only the
first
Add-in you temporarily disabled and click
OK
.
Close Outlook and re-open it again
. Has the problem returned?
If not, then do the same thing again. Leave the first Add-in enabled and re-enable the
second
Add-in you temporarily disabled,
close and re-open
Outlook and see if the problem has returned.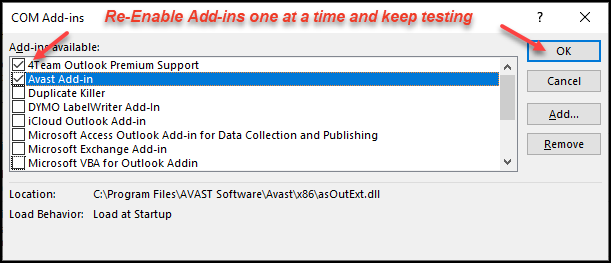 When your problem returns, you've found your culprit. Your options now are to re-disable the problematic Add-in temporarily to deal with another day, uninstall and reinstall it, or if you don't particularly need or use it, leave it disabled for good or even remove it.
Note
: To
permanently remove any Add-in,
you will need to open Outlook in "Administrator" mode. Do that by pressing your
Windows Key
, type
Outlook
, right-click the
Outlook App
at the top of the Best Match list, and select "
Run as administrator
" to start it.
Now you can re-enable the remaining Add-ins you temporarily disabled and restart Outlook to verify that no other Add-ins are causing issues. Although it may be unlikely that two Add-ins break at the same time, if an issue does arise after re-enabling the remaining Add-ins, disable all but the first of them again and resume the steps above to determine which other Add-in might be causing a problem.
Step 3 - Run SCANPST to check for problems in Outlook's OST or PST data files
Depending on your configuration, Outlook will either store its local data in a Personal Folders File (.PST), or synchronise the data from an Exchange or IMAP server in a locally-stored Offline Data File (.OST).
The check and repair process for these two file types, as shown below, is very similar.
Note:
There is a third type of file that Outlook creates in more complex office environments called an Outlook Group Storage File (.NST) which goes beyond the scope of this troubleshooting guide since System Administrators handle them best, and thus they are not covered here.
The following shows how to perform an integrity check and repair on either a PST or OST file.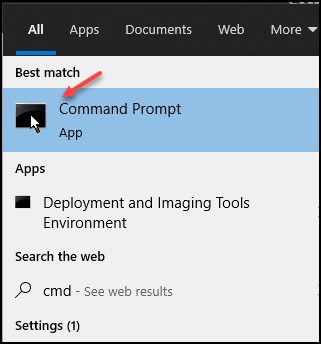 .
Type in the following

in the resulting command window, followed by pressing the Enter key:
For 32-bit Office:
"C:\Program Files (x86)\Microsoft Office\root\Office16\SCANPST.EXE"
For 64-bit Office:
"C:\Program Files\Microsoft Office\root\Office16\SCANPST.EXE"
Type (or copy and paste) the command for your version (32-bit or 64-bit) of Office as shown above. Include the " " quotation marks; I.e.:

The Microsoft Outlook Inbox Repair utility will open. Click on the
B
rowse...
button to locate and select either your
PST
or
OST
Outlook data file, depending on whether you are using POP or IMAP.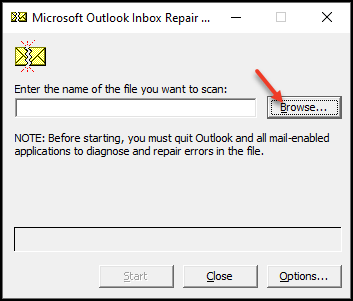 Note:

PST files will normally be located here:
C:\Users\YourProfile\Documents\Outlook Files\
OST files will usually be located here:
C:\Users\

YourProfile

\AppData\Local\Microsoft\Outlook\



If you have a problem locating your Outlook Data File, you can use the simple instructions at the bottom of this

Microsoft Support Document
.
Locating the Outlook Data Files from within Outlook

1. Select File > Account Settings > Account Settings.

2. Select the Data Files tab.

3. All Outlook Data Files (.pst) and Offline Data Files (.ost) are listed along with the name of the account the files are associated with.
Once you have selected your Outlook data file, click the Start repair button that has now become available.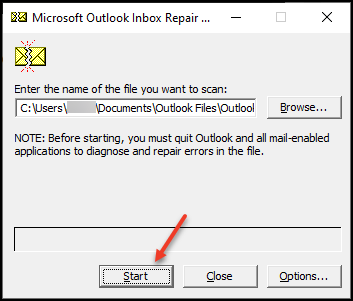 A progress window will appear as the tool begins an 8 step (Phase) integrity check (Diagnosis) of your local Outlook data file, as shown below. Wait for it to complete.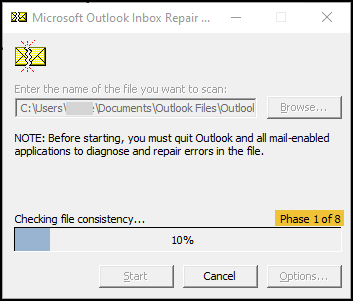 If no errors are found or indicated, close the tool and skip down to
Step 4
.
If errors were found, then proceed as follows.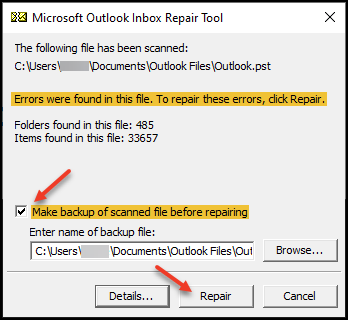 Note: On very large Outlook PST or OST data files, it may appear as though the tool is doing nothing and has stopped responding after clicking the Repair button. That's unlikely, so do not cancel the process and be patient. It may take a few minutes, but you should end up with the following result.
Click OK on the Repair Complete box that opens.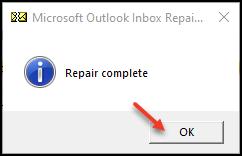 At this point, it's tempting to open Outlook right away to check if your problem has been fixed. Do that if you like, but I recommend doing another scan of the same data file to ensure that all found errors have been dealt with.
Why? It can often take more than one pass to correct all errors, so it's better to make sure the data file passes all integrity tests without error to eliminate any chance of data file corruption remaining as a cause.
Run SCANPST.EXE again from the Administrator Command Prompt window (as shown above) and follow the steps again to restart the 8 Phase integrity check of your data file.
If you now get the following result stating only "minor inconsistencies" were found, then ScanPst has repaired all it can, so click OK to close the tool and open Outlook to see if the problem you had has been corrected.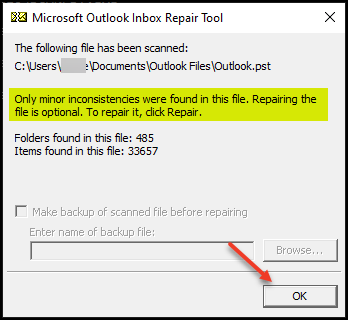 Note:

If a Repair option is still available, more repairs are needed, and you should click the Repair button again.

You will be warned that a backup file already exists. I recommend not to over-write the first backup, so click No on the following prompt and then change the .bak file name to bak2.bak.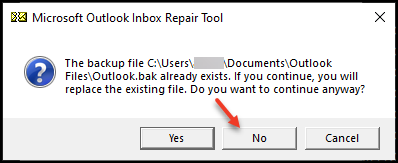 In the example shown below, I've renamed Outlook.bak to Outlook.bak2.bak in the "Enter name of backup file:" box and then clicked the Repair button again.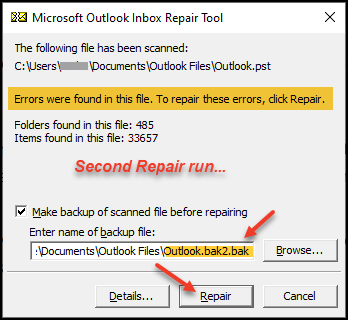 The repair process will run again. Continue running the ScanPst tool until you get the following result.
Note:

The above example result still shows that "only minor inconsistencies were found" during the second diagnosis and that a repair is optional. At this point, there is nothing more to do, and no Repair option is available. ScanPst has now made all the repairs it can, so click

OK

, and the window will close.
Most Outlook setups have only a single profile and it has a single .PST or .OST file, but if your Outlook is set up with multiple profiles or to get mail from more than one mail server, you might have several local files. If that's your case, run ScanPst on each of the .PST and .OST files associated with the profile experiencing problems. (One way to determine if a .PST or .OST file is in use by your active Outlook profile is to look at its date. Files with the date from the last time you opened Outlook are current and should be scanned. Files with old dates are likely left over from earlier Outlook setups or for other (usually disused) Outlook profiles and can be ignored.)
Now open Outlook and determine if the ScanPst process has corrected the problem(s) you were having.
If the problem
still
persists, then continue with a few additional steps, as shown below.
---
Step 4 - Other things to try
Outlook's performance can also be affected by problems with the Windows 10 File System, so it's a good idea to eliminate those if it continues to error after the troubleshooting and repair steps above. Here are three things I suggest trying before reaching out for additional help.
A) Run Chkdsk in Read-Only mode
In an administrator command prompt, run the command:
chkdsk
B) Check the integrity of Windows 10 Protected System Files
In an administrator command prompt, run the command:
SFC /scannow
C) Use DISM to check for and correct system problems
In an administrator command prompt, run the command:
DISM /Online /Cleanup-Image /RestoreHealth
For more detailed help on the Windows troubleshooting suggestions above (
and more
), please check my other article here:
How to Keep Windows 10 in Tip-Top Shape
.
---
References to other useful articles related to this topic:
---
I hope you found this information helpful.
Finally, please do take a second to click the Thumbs Up icon below. It really helps me out.
Thank you very much.

©Andrew Leniart 2021
IT Professional | Freelance Journalist